Keyword Projects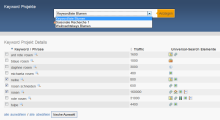 The Keyword Projects provide a way to organise researched keywords in lists and enrich them with search volume (traffic). You can thus easily create keyword lists for a wide variety of topics, which you have preselected.
Entry:
Create a new project in 'Projects' beneath the drop-down list (which is empty the first time you use it) by entering a name and saving (disk icon).
In the next step, you are automatically asked to enter keywords in a text box (one per line). You can use the drop-down list to select the project to which you want to add new keywords if you already have multiple Keyword Projects.
To add new keywords to an existing project, simply click 'add keywords' beneath the project selection.
You can also use other tools like the Keyword Fast Search to easily add keywords to your project.
Output:
Select one of your keyword projects above and confirm by clicking 'show'.
In the sortable results list, you will find the search volume for every keyword (the maximum possible monthly traffic with a ranking at position 1) as well as information about possible Universal Search overlays in the search results.
The magnifying glass next to each keyword links to the Keyword Research tool.
You can again remove the keywords from your project using the check boxes in front of them (Delete function at the bottom of the list).